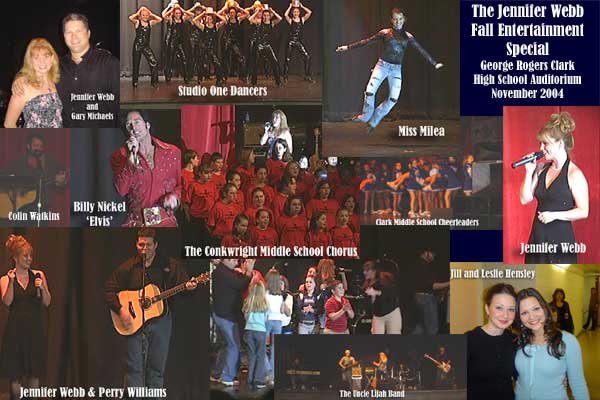 "Supporting the Arts in Winchester"
Free Admission was provided by:
Winchester Chiropractic - Perry Williams D.C.
Dr. Ertel - Internal Medicine & Pediatrics
BB&T Banks in Winchester

Jennifer's 3rd Annual Stage Show in Winchester presented by JDWebb Entertainment. Nov 2004 at the George Rogers Clark High School Auditorium.
More Pictures Coming Soon!
Photo Gallery - Remember: Click smaller pictures to enlarge, click the right arrow for more.
Some Stills are from the Video Captured by:
Something Mohr Production Company
'Capturing The Heart of Kentucky on Video'
977-453-5707
Jennifer's comments on the performers:
Gary Michaels- "Distinguished Service Award for his selfless efforts in raising $250,000.00 to help save the life of a terminally ill child in less than one week Named the Number One Radio Personality in two states." Gary will be your host for the show.
The Uncle Lijah Band- These guys have been local favorites for years. If you have been to the Lykin's Park Labor Day event anytime in the past 14 years, you have seen these guys perform. Although they are officially "RETIRED," Jennifer pulls them "out" as often as she can to perform with her. Kevin Slucher, Billy Smiley, and now younger brother KYLE on drums, (Replacing KENT SLUCHER who is currently on the road with country music super star PAM TILLIS) are the core of this great band still calling themselves UNCLE LIJAH!
Billy Nickel- Billy works for the fire department in Winchester, KY. In his free time he turns himself into a man that everyone knows! His Elvis impersonations have been witnessed by many and LOVED by all!
Dalton Sexton- Dalton's love for music shines through in everything that he does. He is Jennifer's biggest fan and loves to sing and dance to the many hits of Elvis!
Studio 1 Dancers- Just wait until you see these girls MOVE! Wow! These award winning dancers are going to bring you lots of excitement!
Bob Turok- Bob has enjoyed playing music and singing in church for the past 20 years. Bob continues to perform regularly with his band "Grumpfish" in the Central Kentucky area.
Jill and Leslie Hensley- Is there anything that sounds better than sibling harmony? Since they were young children, these girls have been singing together and playing guitar! They say they were GREATLY influenced by their father! You are in for a treat when these girls hit the stage.....
Perry Williams- Perry started playing guitar/piano and singing ONLY TWO years ago. He primarily plays small solo acoustic venues, but says that he has recently been seen with his friend Jennifer Webb at some larger shows. Don't let him fool you, this guy has talent all of his own! We are all looking forward to seeing what is in his future.
Generation Center Line Dancers- For the past few months, Jennifer and Perry have volunteered to perform at the Generation Center located in Winchester. This is one of their favorite places to perform. The line dancers, some of them known as the "Trashy Women" are here tonight to perform for you. Jennifer is very excited to be sharing the stage with them!
Colin Watkins- His band "Zyde-Gator" has enjoyed regional success combining Louisiana cajun and zydeco music with a Marti-Gras party atmosphere. Drawing from the mundane experiences of life, Colin adds his own peculiar twist of humor and often heartfelt emotion to the craft of songwriting.
Clark Middle Cheerleaders- These girls are SO MUCH fun! They have so much energy! I'm sure they will be more than glad to share some of that with you while they are on stage! Sit back and enjoy the performance!
Miss Milea- You won't want to miss this "TINY DANCER." From a very early age she has amazed Jennifer with her talent, and now it is your turn to witness it for yourself. Milea has grown into a young lady, and now teaches six varying dance classes per week in Ohio. She is finishing a college degree in dance.
Erin Hatton- A senior a GRC, Erin is in the advanced choir. She has been singing in church since childhood. Her voice is sure to bring a smile to your face.
Robin Kiniry- Robin is an 8th grader at the Clark Middle School. She loves to sing and perform. Tonight she will bring back memories of one of country musics most famous ladies! Patsy Cline.......
Britnee Lane- Britnee is an 8th grade basketball player for the Clark Middle Eagles. She also enjoys singing with her family in church. Jennifer heard her perform the National Anthem at a basketball banquet a few weeks ago and encouraged her to come and perform it for you tonight. Enjoy!
Conkwright Middle School Chorus- This performance is sure to be one of your favorites of the night. For the past month, Jennifer along with Perry have visited the school to rehearse with this group of kids. What a blast! These songs are songs that aren't your standard "choir" songs! Be sure not to miss these kids at the END of the show. (You should have a tissue ready)
Jennifer Webb 11-8-04