Winchester's own Webb to serve as opening act at Fourth of July event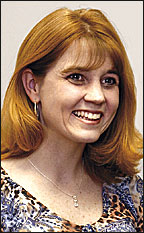 JENNIFER WEBB
By Sun staff
Jennifer Webb, Kentucky's new country singer, will be the opening act for this year's Fourth of July entertainment at Lykins Park.
She was born Jennifer Dawn Partin in Middlesboro and now resides in Winchester with her husband, Tommy, and daughter, Whitney.
Mrs. Webb began singing in church as a child and joined her first band in 1993. With the recording of her first album, "Cloud 10," she has reached one of many goals she set for herself as a recording artist.
About five years ago, she released her first cover album containing "Broken Wing, "It Matters To Me" and "Stand By Your Man."
The singer believes she was born with an original sound, one she was born with more so than something that is developed over time.
"I have had many musical influences over the years, two of which were my aunts, Joan Mason and Helen Marsee, both from Middlesboro. The southern gospel that I heard them sing in church week and after week planted the seed for the heartfelt versions of my song, "Heaven's Bright Shore." She says she later was influenced by Loretta Lynn, Reba McIntyre, The Judds and all of the '80s rock bands.
She currently performs regularly with her band in the Central Kentucky area as well as performing as an opening act for several established artists, including Andy Griggs, Highway 101, T. Graham Brown and Exile.
Mrs. Webb also has performed the National Anthem for sporting events, most recently at a "Lexington Legends" minor league baseball game.
She will open the entertainment at 5:30 p.m. July 4.
Gates will open at 4 p.m. and other entertainment will be provided by Too Cool, 6:30 p.m.; Mike Fryman, 7:30 p.m., and The Classics beginning at 8:30 p.m.
The fireworks will begin immediately following the singing of The National Anthem at 9:55 p.m.
In the event of rain, the festival will be held July 5.
Additional information may be obtained by calling the office of the Clark County Judge/Executive, 745-0200.