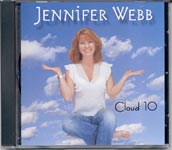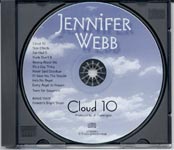 | | |
| --- | --- |
| Disk Jockey at Lexington Green | FYE Fayette Mall |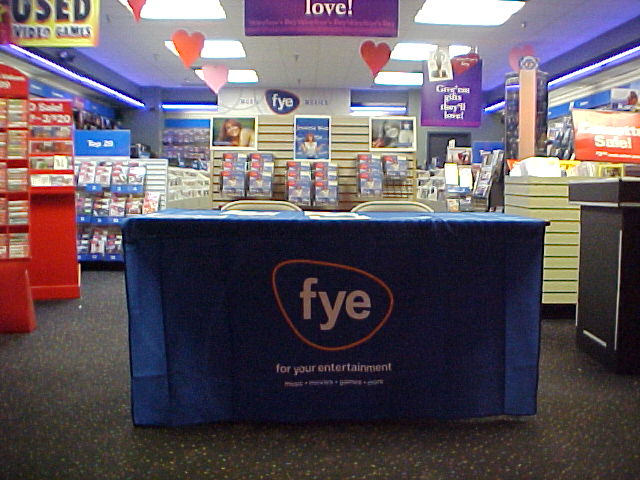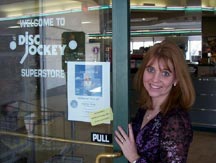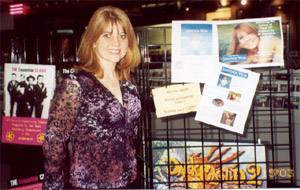 Read Some Reviews of "Cloud 10"

Editorial Reviews
Country Music at it's best. Debut Album from Jennifer Webb with collaboration from JP Pennington, one of 100 BMI's Writers of the Century.
About the Artist
Jennifer is an artist who knows what she wants and has both the work ethic and the energy to see that it gets done properly. She has what many singers don't - an original sound. She makes the listener believe what she says in the lyrics of her songs.
Really quite good! Reviewer: Lloyd Morris, Pres., IMAG
Ms. Webb has a very fine voice with lots of warmth and good range, and has a collection of songs that would seem to showcase her capabilities very well. Most of the tracks in this album are bound to please, but my personal favorites are "Hurts Don't It", an excellent slow ballad type song, "I'll Save You The Trouble", a real toe-tapper, and "Tears For Souvenirs", which is a mid-tempo song that might have come right out of the 60's. All in all, I think this album would be a very good buy for any fan of country or country-rock. Can't wait for the next one.
This is a fresh new talent that needs to be discovered !! Reviewer: Brian Carter/Cartear Entertainment
I really liked the choice of songs here. Great variety. The production of this cd is Nashville ready !! A+ job Not to mention the vocals are where it's at nice job !! Good luck Jennifer !!
WOW!!! Reviewer: Five Star Entertainment
Wow, What a great CD!! This is one of the best cd's Ive heard in a long time, The song selection is awesome, and Jennifer Webb does a wonderful job singing her heart out. From the upbeat track "I'll save you the trouble" to the unbelievable ballad "Hurts Don't it" Jennifer does it all Great!! I've seen a lot of shows in the past few years on the road but this young lady puts on one of the best I've seen!
This Country Music New-comer is sure to hit the Big Time! Reviewer: Kyle Prichard
I host the Wake Up Show, weekday mornings on WRIL Country fm 106.3, Pineville, Kentucky. I actually acquired a copy of Jennifer's CD Cloud 10. Listener response is terrific! My favorite? Side Effects! However, I will continue to play a selection of Cloud 10, until, that is, I receive the first single!
Awesome Reviewer: Cindy Burchett
Jennifer's first CD has wonderful lyrics in every song. The musicians have done a wonderful job in backing her up and complimenting her voice. You just can't help singing along with every song. At the same time, there is lots of variety in the selection of songs. A definite winner.
Loved the songs and the singer is so tiny and cute. Reviewer: Gloria Dickenson
Simple, distinctly clear and relates to life in general.
NASHVILLE BOUND!!!!!! Reviewer: Melissa
This CD is awesome. There is big name country stars that doesn't have CD's this good. I have really enjoyed all of the songs on it. Can't wait to find out which one makes the 1st single. GREAT JOB!
I AM SO PROUD OF YOU !!!! Reviewer: Bec !!
This CD is the true meaning of an artist who wants to make it!! You can really tell Jennifer has put everything she has into this.... I am sure you will LOVE IT! I sure do.
What a voice! Reviewer: Milea
Cloud 10 is amazing. Jennifer sounds like a true angel. I am totally in love with every song, but the one I listen to most is "I've Had It". This one is sure to get you tapping your toes and humming along!!!
The best work yet out of this dedicated artist! Reviewer: K H
This music and vocal combination is some of the best anywhere. The true talent of Jennifer and influence of EXILE is unbeatable. A true must for the real Country Music fan everywhere !
Great Stuff Reviewer: Mark
This is some great music. Love the sound of her voice, and quality recording. Man, the credits for writers and stuff listed on her website are incredible. Lots of luck!