Middlesboro Girl Turns Country Music Artist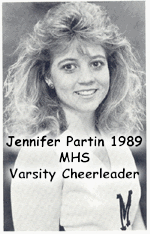 Do you remember Jennifer Partin, born and raised over in Noetown to Larry and Kathy Partin? She first sang to audiences at Beans Fork Baptist Church where her granddaddy, the late Reverend James E. Partin preached. Jennifer was a MHS cheerleader up to 1990 and remembers singing on team buses with her friends.
Jennifer cherishes those days in Middlesboro with her boyfriend Tommy Webb, racing down Cumberland Avenue and four-wheeling in the mountains. Well, Jennifer ended up marrying Tommy Webb and they are currently living in Winchester raising their beautiful daughter Whitney with the help of Jennifer's grandmother, Myrtle Partin. Thus, Jennifer Partin became Jennifer Webb, the Country Music Artist that you may have heard of.
Jennifer is kicking off the promotion of her new album Cloud 10 right here in Middlesboro Feb 7th, 8th and 9th. She has hired a firm in Ohio for web site management, marketing and distribution. Radio interviews and live events are being scheduled for the Middlesboro Mall, FYE records and Wal-Mart. Refer to the www.Jennifer-Webb.com web site for specific times and locations of these appearances. Special collectors items will be given away at the events to Fan Club members already signed up thru the web site. WRIL Country FM 106.3 in Pineville has been airing the album and has scheduled an interview for the 7th and a live remote for the 8th. Kyle Prichard, the host for their weekday morning 'Wake Up Show' says "We actually acquired a copy of Jennifer's CD Cloud 10 many weeks ago. Listener response is terrific! My favorite is Side Effects".
During her career, Jennifer Webb opened for the band Exile. Exile is a Kentucky band nominated for numerous CMA awards, with eleven #1 Hits, like Kiss You All Over and Woke Up in Love With You. Exile's JP Pennington from Berea also co-wrote Take Me Down and The Closer You Get by Alabama.
After working with Jennifer, JP Pennington of Exile agreed to produce her debut album. Together they selected songs from successful song writers, enlisted an array of professional musicians and contracted with the Toys In The Attic recording studio in Lexington. JP Pennington also assisted with many of the vocals, instrumentals and harmonies. Les Taylor of Exile got in on the fun providing encouragement and harmony vocals for the album. After many months in the studio, Jennifer Webb's debut album Cloud 10 was completed. And in a gutsy, heartfelt way she managed to do it her way and without signing her life away.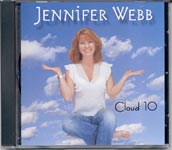 A word from JP Pennington the producer…. "Jennifer Webb has become both a friend and an inspiration to me since beginning work on this project in June, 2002. Jennifer is an artist who knows what she wants and has both the work ethic and the energy to see that it gets done properly. She has what many singers don't - an original sound. This is something that I think one is born with more so than something that is developed over time. She makes the listener believe what she says in the lyrics of her songs." JP continues, "It's been a pleasure to produce this album with someone like Jennifer who is willing to work hard enough to get what we were looking for - an album that we can be proud of! Rock on, Jen!!"
Jennifer has had many musical influences over the years. Two of the earliest were her aunts Joan Mason and Helen Marsee both from Middlesboro. The southern gospel that she heard them sing in church week after week planted the seed for the heartfelt version of Jennifer's song, Heavens Bright Shore. Although this is the only gospel song on the album, Jennifer hopes to do a full gospel album in the future. She says that later influences included, Loretta Lynn, Reba, The Judds, and of course all of the 80's ROCK BANDS.
When asked about the album Cloud 10, Jennifer responds…. "I am so proud of this album. I have been blessed to work with some of the most talented musicians, songwriters, and singers in the business. It takes so many people to make something like this come together, and come together well, and I am so thankful that I have been able to accomplish that. I can't say enough about my producer JP Pennington, without him I would have been lost…. He not only produced the album, he wrote several of the songs as well as sang harmony vocals. He also played lead guitar, rhythm guitar, piano overdubs, and mandolin. I could not have asked for more."
When asked to name her favorite songs on the album… "Oh, it is so hard to say. I listened to a lot of songs and finally decided on these because I really liked something about each and every one of them. In the studio each song has become, 'my own' It is just too hard to pick a favorite."
What are your expectations for this album? "I am shooting for the moon. If we only get half way there, we will keep trying! I've always loved the saying, 'If you never give up, you will never fail' "
What has been your biggest challenge in making the album? "The biggest challenge was the pressure that I put on myself. I am very critical of my voice, and there were times in the studio that I knew things could be better, luckily JP knew that too, and we just kept at it until we got it right
How do you feel knowing that JP Pennington, and Les Taylor from the group Exile are singing on your album? "HONORED! I mean that…. These guys have accomplished so much in the music business, and to have them take time out for me has been so exciting"
Is there anything you want to say to your fans? "THANK YOU! I couldn't do this without you guys. Thanks for sticking by my side and encouraging me every step of the way. I hope you will be as proud of the album as I am. I'm looking forward to seeing you at our shows."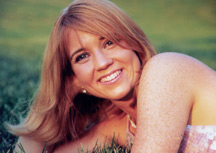 Jennifer and her team ask that Middlesboro show their support by attending the events, joining the fan club and purchasing the CD. They promise "the main priority will be to have fun and entertain"